Stand-up is a style of comedy that originated at the end of the Second World War in the nightlife in the United States. At the beginning it was considered a lower division within the world of comedy, but over the years its fame rose. In Argentina, Stand Up Comedy emerged in 2000, when two friends met to start this new scenic language. At that time, it was really innovative in the Latin American country.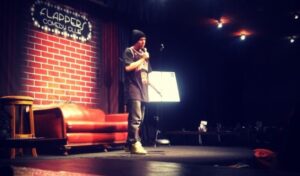 This is how Diego Wainstein and Alejandro Angelini began to meet twice a week at Teatro Liberarte; other comedians also participated intermittently. Over time, these friends continued researching books and performing their own monologues in various shows, where they invited other well-known figures such as Hugo Fili, Sergio Limbardini and Martin Rocco. Stand-up comedy in Argentina gained great acceptance, so it grew progressively and rapidly.
During the 2001 crisis in Buenos Aires, a new generation of comedians soon became known in the world of stand-up comedy, such as Fernando Sanjiao, Federico Cyrulnik, Luciano Mellera, Maga Tajes, Malena Guinzburg, among others… But, would you like to know which the best known comedians in Buenos Aires are today?
The best known referents in Stand-up comedy in Buenos Aires
Ezequiel Campa
Born in Buenos Aires in 1976, Ezequiel Campa says he admired the English comedian Eddie Izzard, who inspired him in this world; then he took a course with Diego Wainstein and later in 2009 began to make his own presentations.
"Nothing makes me funnier than offhand comments. This got me into a lot of trouble as a student."
In his career as a comedian, he has participated in several live shows such as Campa Stand Up, Formato Verano, and he also recorded specials for Comedy Central Latin America in 2016 and 2017.
If you want to enjoy any of his live shows, you can get tickets at ezequielcampa.com.ar.
Dalia Gutmann
She was born on January 16, 1978. She started a career in voice over at the age of 21, and then she worked for several years in a news program, but due to the harsh and cruel reality that she sometimes had to witness on TV she decided to quit her job and to take a stand up course. In this way, she discovered her charisma to make the audience laugh.
She has been one of the best known women in stand-up comedy Argentina with her show "cosa de minas", which simply became a total success where she has been able to share with her audience her daily experiences from a humorous point of view.
"«Cosa de minas» comes from something very genuine: the need to tell things that happen to me for being a woman, without holding anything back and without restraining myself."
She has participated in renowned stand-up comedy shows, such as "la culpa es de Colón", which is broadcasted on Comedy Central channel and Telefe. She also has the show "Animadas", which can be seen on public television. But, Dalia is not only a comedian, she is also a writer, in fact she has published several books, the most recent one is "Tengo algo para decir" (I have something to say).
Martin Pugliese
He was born in Buenos Aires in 1978. In 2001, he studied comedy with Rocco, then between 2003-2005 he worked as a presenter at the Varieté del Farabute. Later, he began to create his own stand-up shows, among which stand out "Sí, amo"; "Bye Bye, humor"; "Pugliese, Pugliese, Pugliese", among others.
With Javier Daulte, he took the stand-up genre to the Teatro San Martín with the play Macbeth. He also participated in several editions of Comedy Central and several shows in TV Pública.
"I am writing a lot about the contradiction posed by a family life, where your enemies are the people you love most in the world".
In radio broadcast, he also participated by being part of the team "Al Ataque", a program hosted by Diego Korol. Currently, Pugliese is part of the team "Código Sily", hosted by Coco Sily on POP Radio 101.5.
You can reserve your tickets for his upcoming live shows on his website martinpugliese.com.
Fer Metilli
She was born in Tandil in 1984. She studied at the Faculty of Art in Tandil. Then, she moved to Buenos Aires when she was 23 years old and it was there where she discovered stand-up, where she was captivated by a show performed by Natalia Carulias. That's how she began to study with Fernando Sanjiao, Martin Pugliese, Martin Rocco and Juan Barraza; at the same time, she was practicing on stage with a group of female comedians such as Dalia Gutmann, Vero Lorca and Nora Schiavoni.
"There is always something of "shame" in these situations. Such shame and the ridiculousness are the main topics of my monologues ". You can find more information about her upcoming shows on her Twitter account @fermetilli