A tattoo is very important, since it is a mark that you will carry for the rest of your life, just as if it were a birthmark. Although there are certain laser treatments to remove tattoos, the ideal situation would be that you avoid going through it. So, you must be sure that you really like it at the time of making it.
Now, if you are already sure about the tattoo you are going to get or if you just got one, you need to know about the post tattoo care we will show you below. Keep in mind that this is of great importance so that the tattoo can look perfect, because even if you have a good tattoo artist, if you don't take care of it the first days, you could end up ruining it.
How is a tattoo done?
First of all, you must be aware that the tattoo is permanent because it pierces the skin to the dermis (second skin layer), which allows the pigment to adhere properly. If you have a professional tattoo artist, he will take care of entering the pigment to the deep dermis, allowing an exceptional durability.
On the other hand, some tattooists with little experience do it a little more superficial. So, after several years the color is slightly lost, being necessary a retouch. But don't get confused, although the tone is slightly lost in these cases, it does not mean that the tattoo will disappear. In such a case, that would be a terrible job.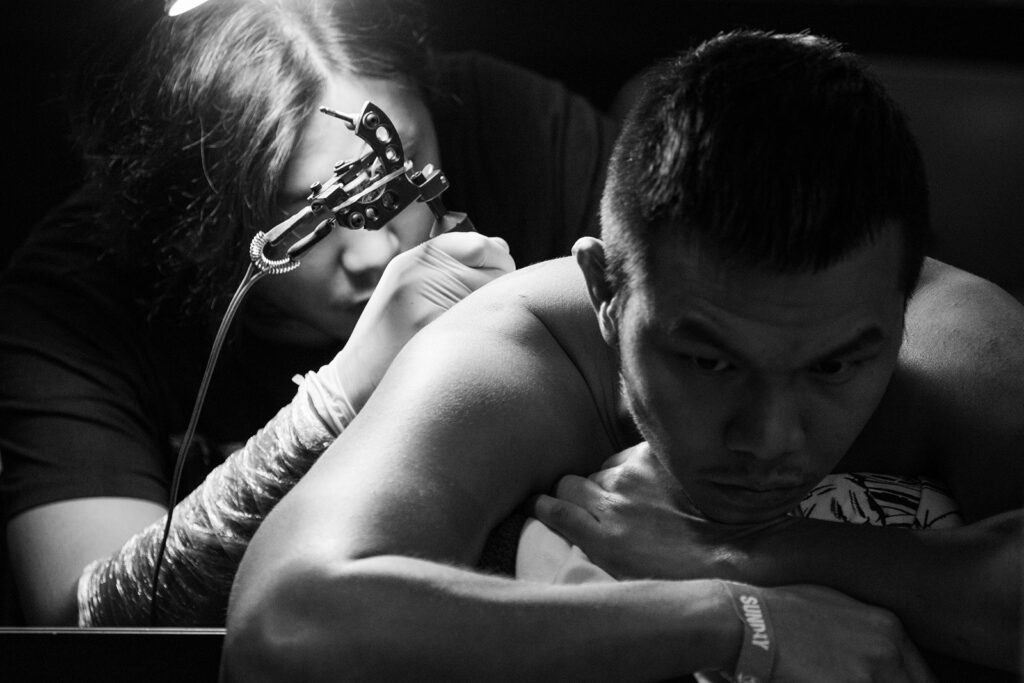 Post-tattoo care
Since it is necessary to pierce the skin when doing the tattoo, it is usual that some scabs appear in the first few days. It is very important that you do not remove these scabs for any reason, since they should fall off by themselves.
In case you are tempted and end up removing them, you must keep in mind that along with the scab you will take part of the pigment. So, you could end up ruining the tattoo and needing another session to fix it. But this is not all, by removing the scab you greatly increase the risk of infection and you are also likely to leave a scar in the area.
Due to the scabs, it is usual that you have an itch in the treated area. Do not scratch your skin, just spread a little vaseline or some cream that the tattoo artist has recommended you; this will soothe the itching sensation and, at the same time, will allow the scabs to fall off by themselves without affecting the pigment.
Other recommendations for post-tattoo care
We have already told you the basics, but now we will show you all the things you should take into account to take good care of your tattoo. This will be your daily routine until it is completely healed:
Cleanliness: you must keep the tattooed skin clean. So, use soap and water, the same you usually use, clean the area very carefully and avoid removing any scab by accident and when drying, do it very carefully, without rubbing.
Moisturizing: as we have already mentioned, it is best to moisturize the area several times a day, as many times as you consider necessary.
Do not expose it to the sun: Wait for the skin to finish healing and then expose it to the sun. But this does not mean that you cannot go out, just cover the area.
Do not go to swimming pools, beaches, rivers or anything like that while your tattoo is healing.
Be careful with clothes: sometimes some clothes can stick to the tattoo, be careful with the clothes you wear while you have scabs, because sometimes the friction with certain clothes could pull some scabs off.
The healing of the tattoo takes about 2 weeks. So, be patient and take care of it so that the result can be as expected.
Some people, in order to keep their tattoo in good conditions, decide to wrap the area with plastic wrap when they go out. In this way, they prevent the clothes and anything from the outside from damaging the tattoo. Generally, this happens with very large tattoos, since they are more difficult to take care of. Then, once you get home, it is important to clean the area in order to remove any excess perspiration that may have been produced.
Concluding recommendations
Finally, you should keep in mind that, like any other wound, the tattoo should heal progressively. Therefore, if you notice any symptoms of infection or if its appearance worsens as the days go by, the best thing to do is to see a doctor. In this way, your health will not be affected and the tattooed area will heal properly.
Also, keep in mind that every tattoo artist must use a brand new sterile needle, and must open its package in your presence, thus preventing the risk of infection or transmission of serious diseases. Therefore, it is best to go to a professional tattoo artist with a good reputation. Remember that this is a mark that you will carry for the rest of your life, so far from looking for cheap; simply look for a quality option.