If you plan to travel soon, there is nothing better than buying your flight online. Although this is very usual nowadays, it is important to take into account the best sites to buy your flight. Of course, if they are cheap, so much the better. For this reason, we will show you the most reliable options which tend to offer good prices.
Best sites to buy cheap flights
Skyscanner
It is considered the best known option on the web where you can carry out the search you want, even if it is for multiple destinations at once. Similarly, you can use a practical filter where you can select the number of people between children and adults, cabin class (economy, economy, premium, business class and first class), number of stops, airlines, ecological flight options and so on. But, the biggest advantage is that you will be able to find cheaper options.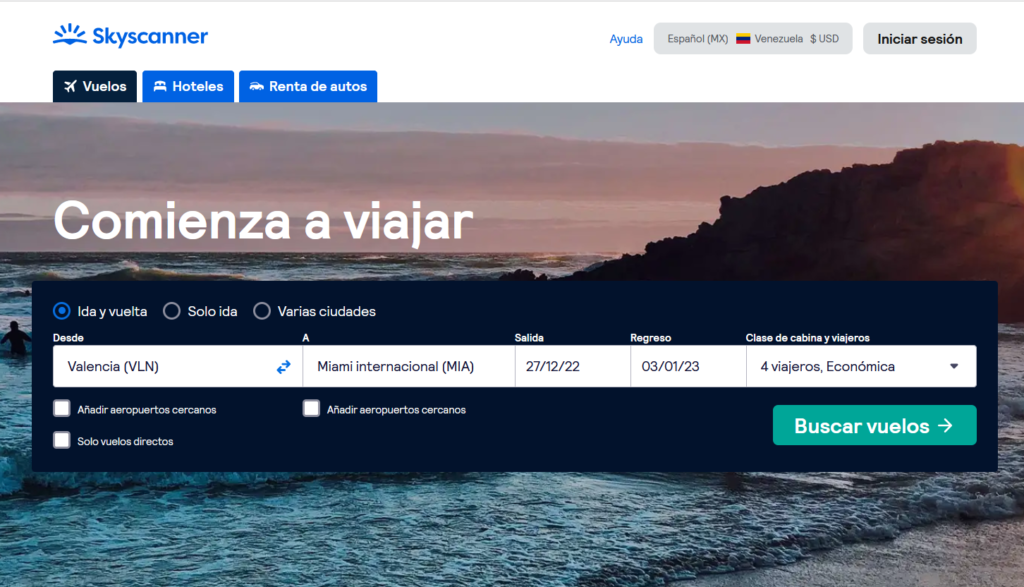 On the other hand, you will also be able to sort the results obtained by price, as well as activate a price alert, so that if there is an offer available, you will be notified automatically. Likewise, you will also be able to find other services such as hotel accommodation or car rental.
But what stands out the most in Skyscanner is the "travel anywhere" option, since there you will be able to find the cheapest travel options. So, this is a perfect alternative if you want to have a spontaneous vacation.
Google Flights
Today, Google is known as the giant of technology, so it is difficult to think of any online service in which Google is not present. And, there is no exception in the case of buying cheap flights online. Best of all, you will also have the option to search for hotel rentals, vacation destinations and places to visit on the same website.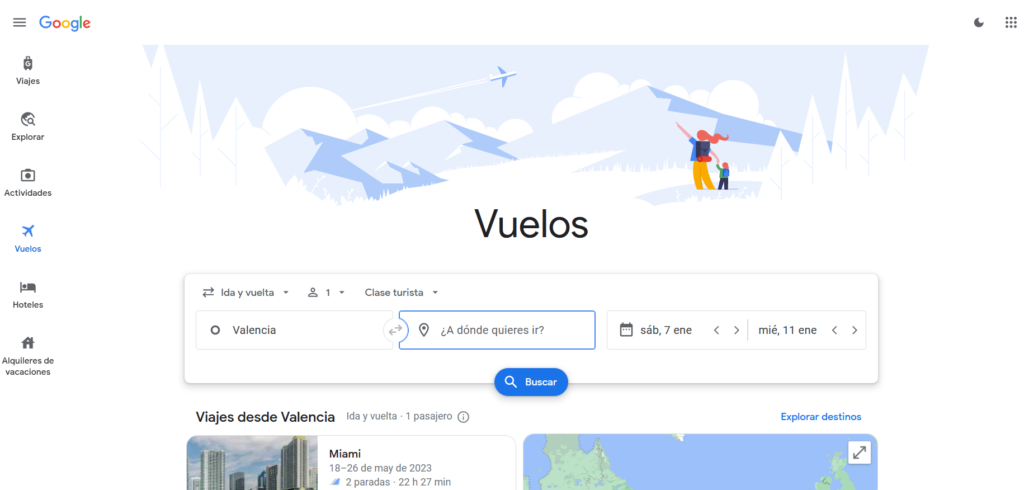 In addition, in Google Flights you will find interesting comparisons that will allow you to choose the option that best suits your preferences and budget. This is shown in a very simple and organized way so that you can find the option you want quickly.
On the other hand, you will have the option to apply several filters where besides indicating the date of departure and return, you can also select the class in which you want to travel (tourist, premium tourist, executive or first class), the number of stops, the number of people (considering children and adults), amount of carbon emissions, among other things … After all this, you will have several options and their prices in an easy and fast way. You can even choose the currency in which you want to make your payment.
Momondo
This metasearch engine works with more than 900 pages and is recognized for being a good alternative when you want to get a variety of options just a click away. In addition to the classic filters, you will have different options to find accommodation and car rentals. What's more, you can even plan your trips by train if it applies to the place you want to go.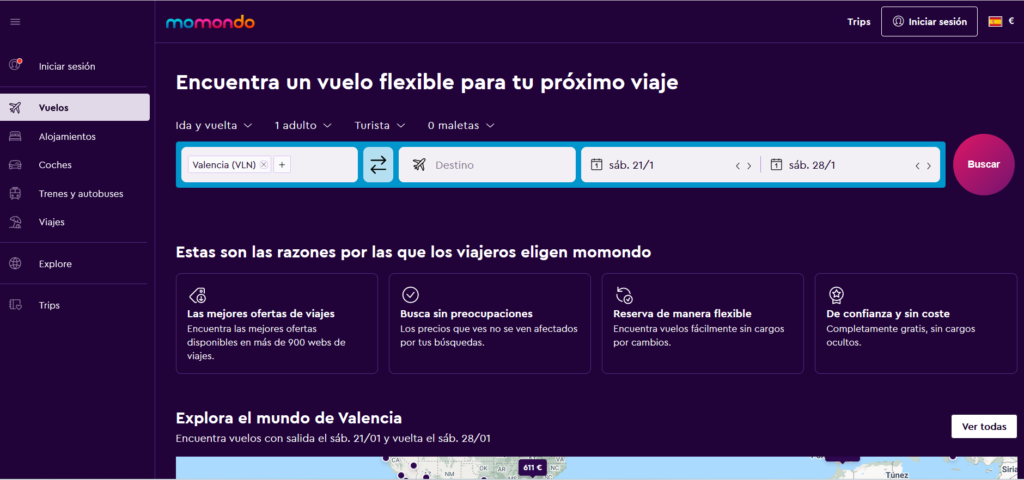 In particular, it is characterized by offering free guides, which is ideal for those tourists who are willing to get to know a new place. On the other hand, you can also find a map where you can see the closest countries and the average cost of traveling there. This is a very practical method for those who want to see the cheapest options at a glance.
Kayak
This is another very popular metasearch engine nowadays when looking for cheap flights online. It works with more than 700 websites of travel service providers, and has a price catalog that is updated every 24 hours at the most. So, you can have the right information at any time.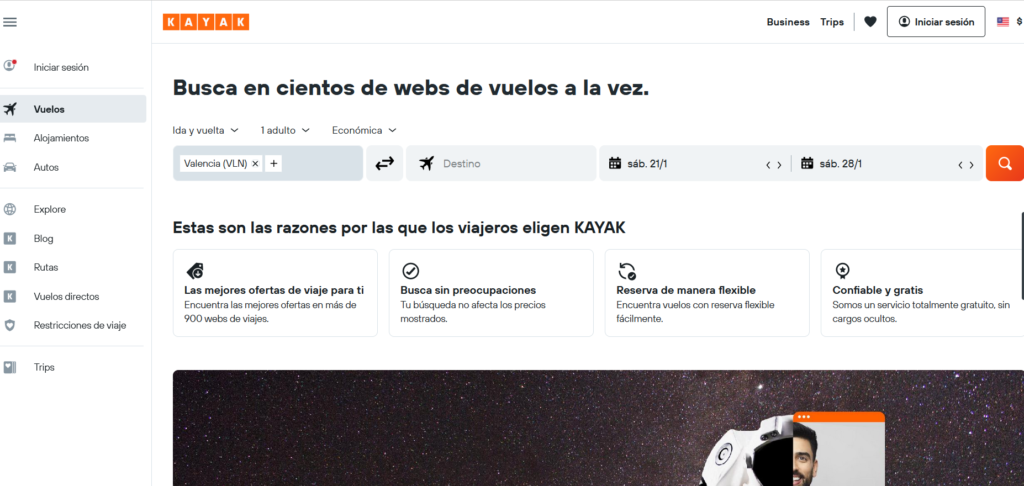 This option is simple to usen, so you will surely become familiar with it very quickly. Once you enter the information about the number of people, destination, and any other preferences in the search filters, you will be able to find the available alternatives along with their prices.
One of the biggest advantages of this website is that it indicates if booking is convenient or not, as in some cases prices may probably go down in the following 7 days. So, this is a perfect option for those who are looking for a bargain.
Hopper
This is an excellent alternative if you prefer to have a good mobile app to buy flights online. Best of all, it has a 95% accuracy when giving you an estimate of the cost of your flight, maintaining this accuracy up to a year in advance.
You will also have the option to create a follow-up in order to be notified when it is time to buy the flight, allowing you to enjoy the most tempting offers or the best seasons to travel. So, it will surely make recommendations on whether you should wait a little longer or not.
What is the best platform to buy flights online?
On this occasion, we have shown the most popular options today, with which you will surely have no problem. But among all those mentioned, the most outstanding is Skyscanner, since it has an excellent platform that is very intuitive to use and also offers excellent options for cheap flights. So, it is not surprising that it is leading the rankings of the best platforms to buy flights online.
However, if for some reason you do not find what you were looking for or prefer to see other options, you can take a look at the other alternatives that we have mentioned above. On the other hand, if you also want to look for accommodation, we recommend you this post about the most reliable accommodation search engines in the world, and you can also see the most chosen tourist attractions by travelers around the world.