Incredible as it may seem, we are getting closer and closer to being able to travel into space, not as astronauts, but as tourists. Well, literally, space hotels refer to that: a hotel built in space, where you can have luxury rooms, restaurants, concert hall, disco, game courts, gym, and so on. In addition, you will have the exceptional view from space and the experience of having fun with gravity similar to the moon, so you can practice big jumps that would not be possible on earth.
Voyager Station, the first space hotel for 2027
This is a project that has been in development for years and in fact it was expected to be ready by 2025. As a consequence of the pandemic, there were several considerable delays. So, it is expected that its construction will begin in 2026 and be ready to open in 2027. This is what John Blincow, director of the Gateway Foundation, asserted.
If you are the kind of common person who has dreamed of living an authentic experience in space, then you should know that this will be available in the very near future and, in fact, this is expected to be a demanded service. So, reservations are already available on the Voyager Station website. Now, if you are wondering what attractions this space hotel will have, we will mention them below:
Simulated gravity, you will jump like never before!
The Voyager Station will have 24 modules that will be connected to each other through elevator shafts. Its structure will have a rotating wheel shape (similar to a bicycle wheel) orbiting the Earth. In this way, this rotation will create the "simulated gravity" and the hotel will have some stability for tourists so that they can sleep, eat and do their activities normally.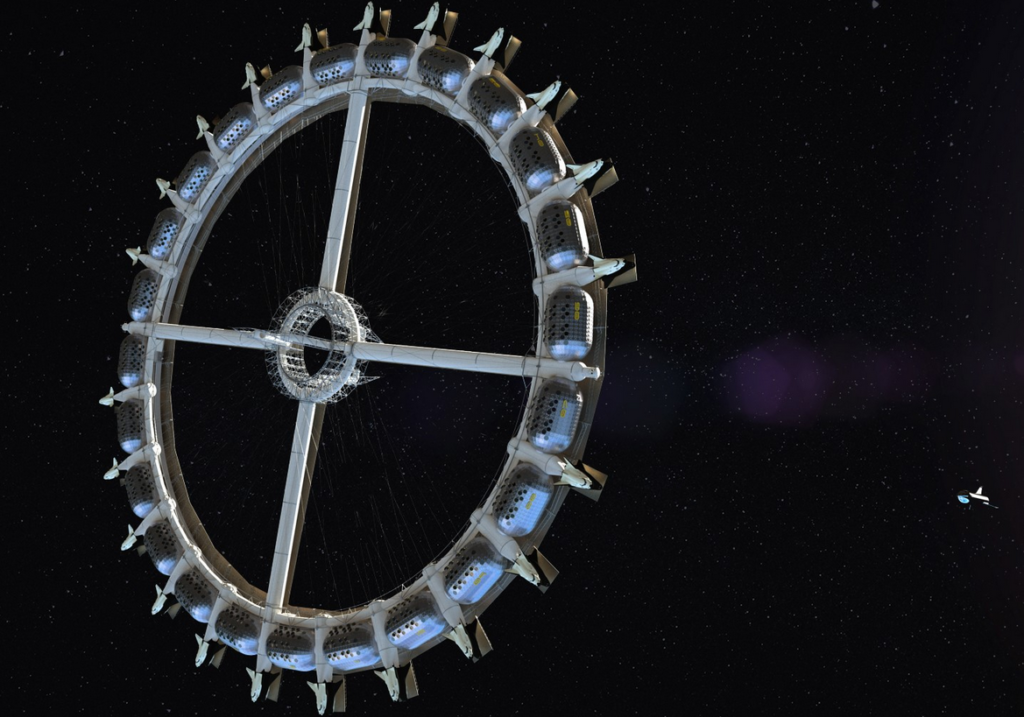 But in certain areas this will change a little in favor of fun, as it cannot be denied that one of the greatest expectations of traveling into space is to enjoy the gravity that will allow you to feel like you are "flying" or making big jumps. So, it will have a large gym of about 7 meters high where you can jump from one end to another and play sports with a sixth of Earth's gravity.
Do you prefer a vacation house or a suite?
Have you ever dreamed of having a house in space? This could become a reality, since Voyager will have luxury villas, which can be rented for weeks, months or simply be purchased as a real space house. Imagine having a villa of 500 m² in space, which will have 3 bathrooms, kitchen, and beds to accommodate up to 16 people.
But if you just want to be in space temporarily, the suites are undoubtedly an excellent option. You can enjoy them for 3 to 5 days in a basic plan, but for those who want to stay more time, you can rent a suite for up to 1 month. Each of these rooms has a size of 30 m², private bathroom, and a capacity to accommodate a maximum of 2 people.
<iframe width="825″ height="487″ src="https://www.youtube.com/embed/HDl36a4-ujs" title="Visita en REALIDAD AUMENTADA al primer HOTEL ESPACIAL, la VOYAGER STATION | RTVE Noticias" frameborder="0″ allow="accelerometer; autoplay; clipboard-write; encrypted-media; gyroscope; picture-in-picture; web-share" allowfullscreen></iframe>
Michelin quality food
Regarding the food, it is guaranteed that each dish will be made with top quality ingredients. They will be fresh ingredients since it is estimated that food will be delivered every 15 days. In addition, the restaurant is expected to have a 3 Michelin star quality, so undoubtedly it will be a space delight.
But this is not all, because thanks to the simulated gravity, you can go jumping from one floor to another. If you are at the top and want to go down, just jump and fall gently to the desired place. In addition, you will be able to appreciate a kind of thin curved waterfall like something out of a science fiction movie, which will fall from the roof of the bar to the restaurant at the bottom.
How much will all this cost?
The minimum time that tourists will be able to stay will be from 3 to 5 days, which will cost 5 million dollars. This is a reasonable price, considering that it is a unique experience, that is, humanity has never experienced before and it is just beginning. But it is estimated that in the future these prices will be much more affordable, becoming the equivalent of going on a cruise.
But undoubtedly it is worth investing in the experience of taking a ride in space and having a different perspective of the earth and the universe.